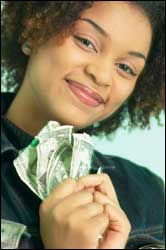 The following can be purchased at your Credit Union for whatever your needs may be.
Cashier's Checks
Cashier Check Fee: $5 each

Money Orders
Money Order Fee: $1 each

Traveler's Checks
Traveler's Check Fee: FREE
Dual Signature Traveler checks - 1% of purchase amount.
Traveler's Checks are easy and convenient and unlike cash, can be replaced if they get lost. Don't take chances on your next trip or vacation, make plans to stop by the CU before you leave.