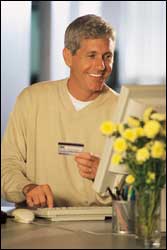 Financial Educators FCU offers ALL it's members a Platinum Rewards MasterCard! You can now use your points for airfare, lodging, and brand name merchandise! There is no annual fee for this card, and rates start as low as 8.88%. This is a very low fixed rate for a no annual fee reward card. We also charge the same low rate for cash advances as purchases, and will never raise your rate for a late payment! We offer immediate increases in your credit line and one day service on replacement cards (certain fees apply).
Facts At A Glance
Annual Fee: $0.00
Current Rates: 8.88% APR, 11.90% APR, 13.90% APR
(rates determined by credit score)
Maximum Credit Limit: $20,000
Late Payment Fee: $20
Applications available in the Credit Union or by calling 386-506-3665.
Now you can get your account information online including:
Your account balance
Available credit
Amount and date of your last payment
Minimum payment amount and the next due date
Last statement date
Cash advance limit
Transactions posted since your last statement
Payment address information
Instructions and forms for handling disputed charges
Go to www.ezcardinfo.com to check your account information.
Click Here To Apply MasterCard!